OMG! This is ridiculus! I had NO idea! Two days ago I started organizeing my fabric stash and had no clue what I had. This picture is the top drawer only fat quarters.
I still have more fabric to fold and scraps to organize. Two large bins.
Here are more fabrics folded that need a drawer.
Six drawers full and I need to go get another one of these three drawer units. I had fabric stashed in bags and bins all over. I CAN not buy any more fabric! Only problem is most of my stash is one yard cuts or smaller so I do need larger pieces for backing. hmmm. I do have a couple of bolts of fabric in the other room but it is too nice to use as backing.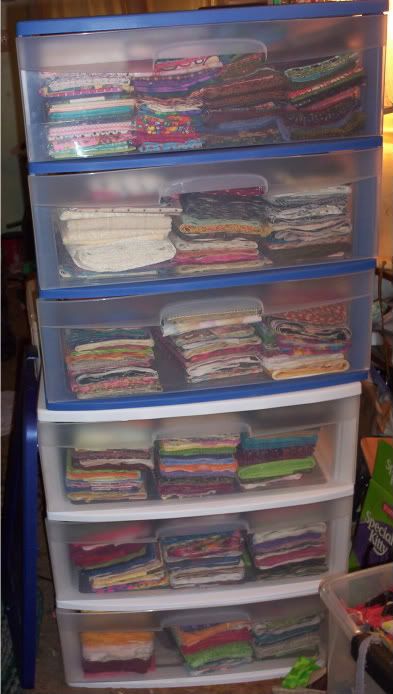 I haven't organized by color yet. I'm just lucky to get everything together in one place. lol I now am going to take a pledge to make items only useing scraps and crumbs like Bonnie from
http://www.quiltville.com/